NOSTALGIA PLUS! For all you Lode Runner fans from the early 1980s. Looks and plays like the original, but runs under Windows.

Apple Lode Runner - The Remake was suggested by Fred Pence who in his younger days back in the early 1980s was an avid fan of the original Apple II game by Doug Smith. Here's the Spoonbill Software version. For those of you who are not familiar with this game, it is an action / puzzle game combining quick reactions with logical reasoning. You progress from level to level by collecting the treasure chests and avoiding the guards. Your only defence, apart from your quick wits, is a laser pistol which you can use to dig holes to temporarily trap the guards. When you have collected all the treasure chests on a level, you must climb to the top of the level before proceeding to the next level. Some levels are more action than puzzle, whilst others are more puzzle than action. The 150 levels which came with the original Apple game are here, plus the 50 levels from the later Championship Lode Runner and a bonus set of 150 levels by the Lode Runner master, Fred Pence himself.
In addition, you can save a game and resume the game later, record your achievements in the High Scores table, design your own levels, and organize levels which you have created by rearranging them or deleting unwanted ones. There are lots more goodies.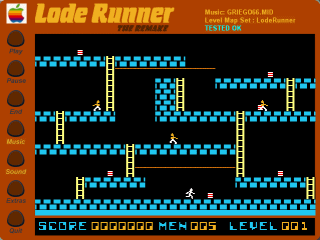 In addition to the three level map sets which came with the original 1.0 release, minor versions 1a through 1h have included a further 50 level map sets which altogether provide you with a staggering 5750 levels to solve!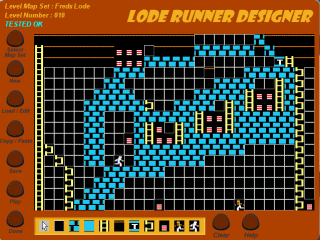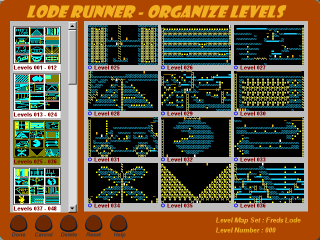 | | |
| --- | --- |
| Level Designer | Level Organizer |

Full screen mode does not work under Win 8 and Win 10, so this has been replaced in version 2.0 by a user-specified variable window size.